Where: Online
When: Thursday, March 10 at 7 PM on WRAL
Local news station WRAL is putting on a show featuring local and national artists, including singer-songwriter Ben Folds and Poet Laureate Jaki Shelton Green, both NC natives. The event aims to highlight the effects of the pandemic on the arts and support local nonprofit arts and culture organizations.
Where: Craftboro Brewing Depot, Carrboro
When: Saturday, March 19 at 2:30 and 3:30 pm (the 3rd Saturday of every month)
Brewery founder Jeffrey Allen Howard will take guests on a tour of the facility. Tickets are $5 and come with a tasting flight of the establishment's beers.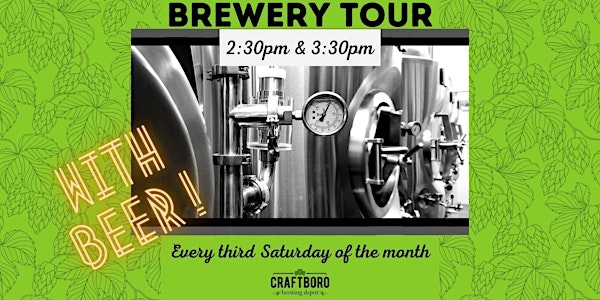 Where: Downtown Durham
When: Every Thursday
Participating restaurants and bars will offer specials on small plates and bar parings to encourage residents to get back into the Downtown Durham restaurant scene. The crawl was recently started to help restaurants struggling to get through the pandemic and hopefully get business back to normal. Check out the site for a list of participating restaurants and a map.
Where: Throughout Downtown Durham
When: Friday, March 18 (Every Third Friday)
Galleries and other venues stay open later for visitors and some even offer special exhibits, food and drinks. Further, many area restaurants and bars will have specials going on.
Where: Throughout Durham
When: Wed-Sat, March 23-26
"This Spring, the first-annual Bull City Summit will host leading and breakthrough creatives, musicians, technologists, scientists, researchers, artisans, and entrepreneurs alike as the worlds of Music, Art, Science and Technology converge." The summit will feature a host of speakers, panels, art installations, performances and more!
Where: North Carolina Museum of Art
When: Wed-Sun, Mar 16-20
The five-day festival will see the museum covered in more than 50 floral masterpieces inspired by much of the museum's collection. Proceeds will be used to support the museum and museum programs.
Where: Downtown Raleigh, See Map Here
When: Sat, Mar 12, 10 am
The parade celebrates the Irish holiday with all sorts of traditional apparel, music and dancing, and will proceed no matter the weather. Don't forget your green!
Where: Forest Theater, Chapel Hill
When: March 31 – April 2
The festival "presents several programs of short films made by filmmakers from North Carolina and around the world that are formally inventive; speak with a personal voice; and are inspired by the possibilities of film as art." From March 1 – April 2 Peel Gallery in Carrboro, and other locations around the area, will be exhibiting virtual reality and augmented reality artwork and more as part of the festival.