Where: Moore Square, Downtown Raleigh
When: Every Sunday, 11 am – 3 pm
The market features all sorts of goods including fruits, vegetables, meats, seafood, eggs, dairy, artisanal goods and pastries. All vendors are from within 90 miles of Raleigh. In addition, the market has special theme days with live music, children's activities and more.

Where: Central Park, Durham
When: Every Wednesday, 3 – 6 pm
"A casual, laidback shopping experience to get all of your favorite local goods." The market is conveniently located in Downtown Durham's Central Park.
Where: Eno River Farm, Hillsborough. 2127 St. Mary's Rd
Hillsborough, NC 27278
When: Every Wednesday, 5 pm
Scenic Eno River Farm aims to bring together the community while helping to serve its needs through action and education. Visitors can come pick their own produce and every Wednesday the farm hosts a gathering of food trucks to attract visitors.
Where: The Forest Theater, Chapel Hill
When: Thursday, Aug 5 (Moana); Thursday, Aug 12 (Frozen 2); Starts at sundown (around 8-8:30 pm)
"Led by Chapel Hill Community Arts & Culture, along with UNC Arts Everywhere, Movies Under The Stars will provide simple programming for the Chapel Hill community after a long hiatus of festivals and event." The movies will be shown in the enchanting Forest Theater, which is a site to see in itself. Bring cushions or blankets to get comfy!
Taste of Soul NC Variety Edition
Where: Central Park, Durham
When: Sun, Aug 15, 1 – 5 pm
Enjoy Seafood, BBQ Chicken, Ribs, Burgers and More at the Variety Edition of Taste of Soul NC. There will also be other vendors and activities.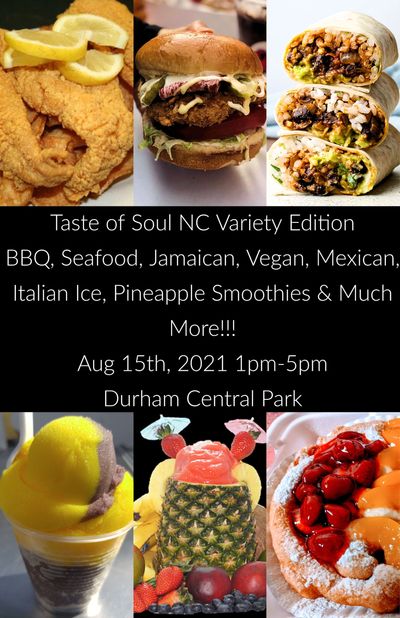 Where: Downtown Durham
When: Friday, Aug 20, 6 – 9 pm
Galleries and other venues stay open late for Durham's free monthly art walk. Take advantage of the opportunity to explore downtown, take in some amazing art and enjoy all the greats bars and restaurants the city has to offer.
Raleigh's International Food Festival
Where: City Plaza, Downtown Raleigh
When: Sat, Aug 28, Noon – 10 pm
The festival celebrates the area's diverse community with a festival to promote cross-cultural exchange. There will be live music and dance performances, beer, wine and lots of delicious food.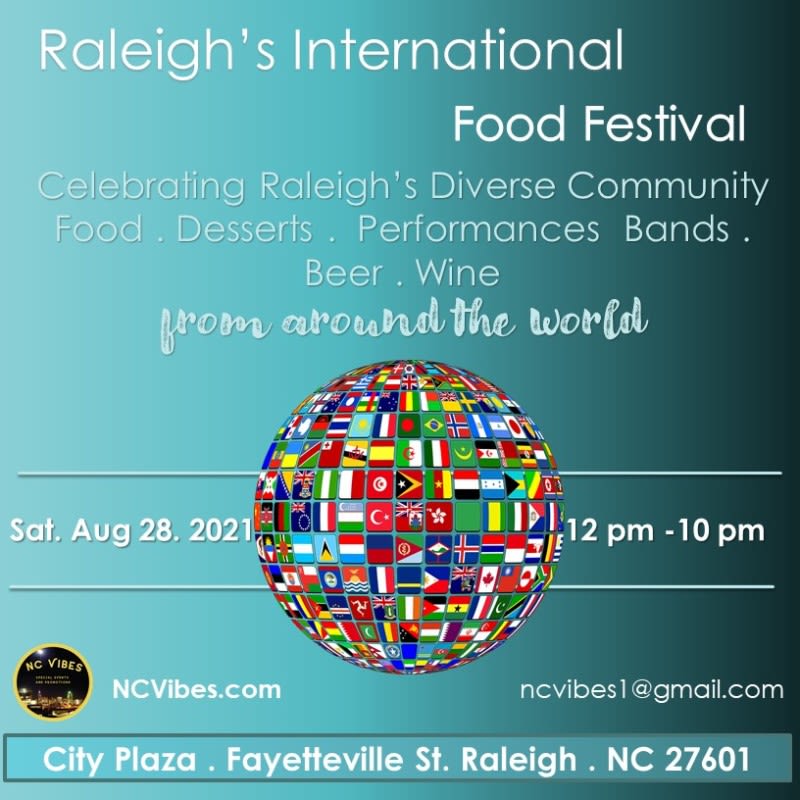 Where: Academy Street, Downtown Cary
When: Saturday, August 28, 9 am – 6 pm; Sunday, August 29, 12:30 – 5 pm
Taking place on Cary's Town Hall campus, the 45th Lazy Daze Festival celebrates the coming of Fall and the community. The event will features all sorts of art, music, food and more. There will be special exhibits, fun games, quirky activities and over 300 artists.